Appearances
R.J. Harlick loves meeting readers. She is available as a guest author or speaker at conferences, festivals, schools, association monthly meetings, libraries and book clubs. For upcoming appearances
go to her blog and Facebook page.
BOOK TOURS AND SIGNINGS
With the release of each new book, R.J. Harlick heads out on a book tour.
Some of her favourite stores include,
Ottawa: Books on Beechwood, Chapters - Rideau Centre, South Keys, Kanata and Pinecrest
Kingston: Chapters, Novel Idea
Kitchener: Chapters
London: Chapters - North London
Montreal: Chapters - Pointe Claire
Peterborough: Chapters
Oshawa: Chapters
St. Catharines: Chapters
Toronto: Chapters - Queensway
Waterloo: Chapters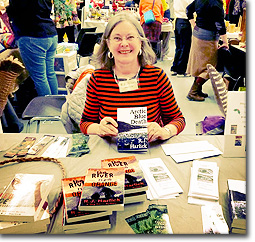 Beyond Ontario tour
For the release of Arctic Blue Death R.J. did a Maritime Tour with Vicki Delany, which included signings and events at Brome Lake Books in Knowlton QC, Bishops University in Lennoxville, QC, Chapters and Fredericton Public Library in Fredericton NB, Chapters in Moncton NB, Chapters and Mount St. Vincent University in Halifax NS and a library event in St. John NB.
For the release of Silver Totem of Shame, R.J. traveled to Calgary, where she signed at the Chapters McLeod Trail, then on to Vancouver where she did a number of events at several Vancouver Public Libraries and store signings at a couple of Book Warehouse stores. R.J. wishes to thank the Quebec Writers Federation and Canada Council for helping make this tour happen.
CONFERENCES
Bloody Words

Since its inception in 1998, R.J. Harlick has made a point of attending this unique Canadian conference as a panelist and mystery cafe guest author

Malice Domestic

With each new book, R.J. Harlick heads off to Bethesda MD, to have fun at this terrific conference, participating as a panelist and in the Author Round

Left Coast Crime

R.J. loves to travel, so whenever LCC is being held in an intriguing location, she attends, participating as a panelist. El Paso 2005, Hawaii, 2009, Santa Fe 2011, Colorado Springs 2013
Portland, Oregon, 2015

Bouchercon

The crime writing world's largest conference, R.J. attends and participates as a panelist whenever she has a new book out. Toronto ON 2004, Madison W 2006 Indianapolis IN 2009, Cleveland OH 2012
FESTIVALS AND OTHER EVENTS
R.J. Harlick has been a guest author and speaker at various festivals, libraries, universities and other events, including:
Bishops University, Lennoxville, QC
Bloody Words, Toronto ON
Bonnechere Authors Festival, Eganville ON
Book Expo Canada, Toronto ON
Canadian Authors Association, Ottawa Branch monthly meeting, Ottawa ON
Canadian Library Association Conference, Ottawa ON
Capital Crime Writers monthly meeting, Ottawa ON
Classical Theatre Festival, Perth ON
Festival of Mystery, Oakmont PA
Fredericton Public Library, Fredericton NB
Lake BookFest, Lake County, FL
Montreal Book Fair, Montreal QC
Mount St. Vincent University, Halifax NS
Ontario Library Association Conference, Toronto ON
Ottawa Public Library Foundation's Literary Gala, Ottawa ON
Ottawa Public Library, multiple branches
Pelham Public Library, Fonthill ON
Prose in the Park, Ottawa ON
Scene of the Crime, Wolf Island ON
Thelma Parker Memorial Library, Waimea, HI
Thousand Islands Writers Festival, Brockville ON
Tweed Public Library, Tweed ON
University of Ottawa, Creative Writing Course, Ottawa ON
Vancouver Public Library, Vancouver BC
Various Ottawa High Schools
When Words Collide, Calgary AB